Françoise de Graffigny (1695-1758), femme de lettres dont le talent était reconnu dans toute l'Europe, fréquentait un nombre impressionnant de personnalités, dont Voltaire, et ses lettres fournissent un témoignage exceptionnel de l'histoire intellectuelle, sociale, politique et littéraire de la France pendant un quart de siècle. Cette correspondance constitue une mine de renseignements sur la condition de la femme, la vie quotidienne à Paris, et la langue familière du 18e siècle.
Depuis 1985, cette édition de 15 volumes publiée par la Voltaire Foundation, qui présente plus de 2500 lettres, pour la plupart adressées à François-Antoine Devaux, a été préparée et annotée par une équipe internationale de spécialistes basée à l'Université de Toronto. Le volume 16, projet électronique en cours sur le présent site, comporte un index cumulatif revu et corrigé, des corrections et additions aux lettres et notes imprimées, ainsi que des lettres additionnelles.
Outre le volume 16, le site héberge divers documents et renseignements autour de la correspondance.
Françoise de Graffigny (1695-1758), French novelist and playwright whose talent was celebrated all over Europe, frequented many leading figures of her time, including Voltaire, and her long descriptive letters offer a unique insight into twenty-five years of France's intellectual, social, political, and literary history. This correspondence provides a wealth of information on the condition of women, daily life in Paris, and the richness of colloquial French in the 18th century.
Since 1985, this collection, consisting of 15 volumes published by the Voltaire Foundation, and containing more than 2500 letters, most of them written to François-Antoine Devaux, has been edited and annotated by an international team of specialists based at the University of Toronto. It is completed on this site by volume 16, an ongoing electronic project, offering an updated and revised cumulative index, corrections and additions to the printed letters and notes, as well as some additional letters.
In addition to Volume 16, the site houses a miscellany of documents and information connected to the correspondence.
Page mise à jour le
23/VI/2022
Most recent update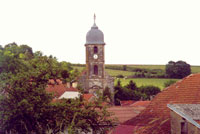 L'église à Graffigny-Chemin (Haute-Marne)